1. In April 2023, who has been awarded the Order of the White Eagle, Poland's highest distinction?
Narendra Modi

Vladimir Putin

Volodymyr Zelensky

Joe Biden
Correct Answer: C
2. Which of the following has topped the list of States in the country with the most number of products securing the Geographical Indication (GI) tag in FY23?
Gujarat

Kerala

Karnataka

Punjab
Correct Answer: B
3. Where will Apple iPhone maker's first company-owned store be opened in India?
Hyderabad

Kolkata

New Delhi

Mumbai
Correct Answer : D
4. The International Seabed Authority will start accepting applications in July 2023 for deep-sea mining. Where is International Seabed Authority headquartered?
Rome

Geneva

New York

Kingston
Correct Answer : D
Daily Current Affairs – 06 April 2023
5. In April 2023, who among the following Bollywood actresses was conferred with the Padma award by President Droupadi Murmu at Rashtrapati Bhawan, in New Delhi?
Preity Zinta

Twinkle Khanna

Shilpa Shetty

Raveena Tandon
Correct Answer : D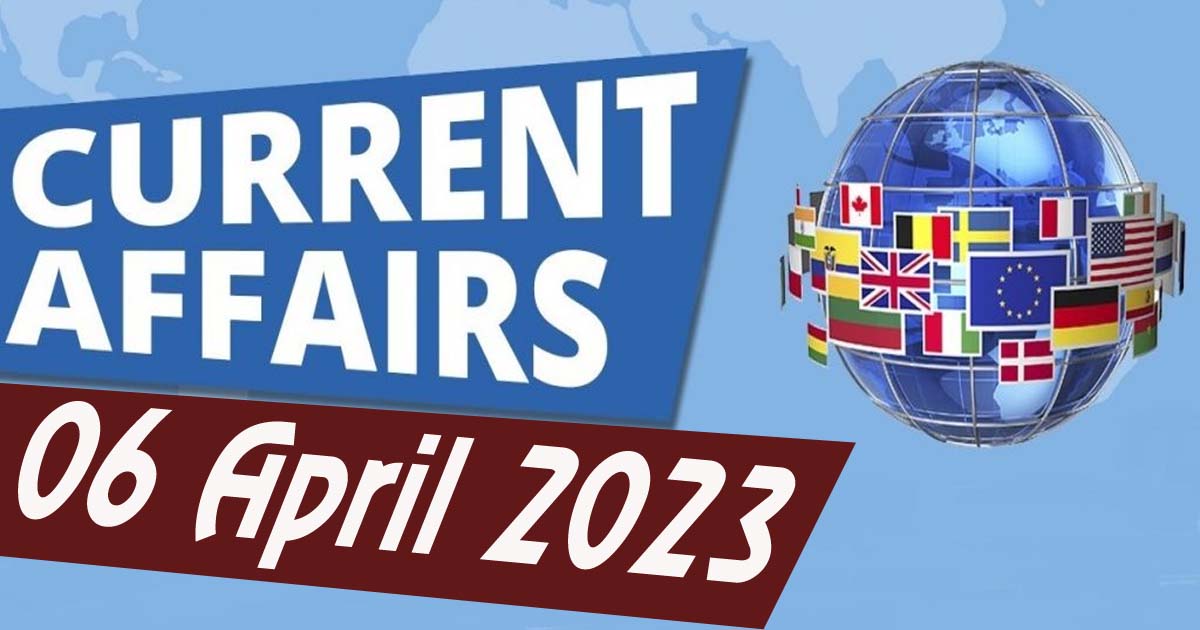 6. The clean energy solution provider Suzlon Energy recently appointed JP Chalasani as the new Chief of the company. Suzlon Energy is based in of the following cities?
Bengaluru

Ranchi

Pune

Ahmedabad
Correct Answer: C
Daily Current Affairs – 06 April 2023
7. Iran has recently appointed an ambassador to which of the following countries, for the first time since 2016?
Israel

Saudi Arabia

Turkey

United Arab Emirates
Correct Answer : D
8. Who among the following became the 1 st woman on-field umpire in a full-member men's T20I during New Zealand's second match against Sri Lanka in Dunedin, New Zealand?
Anna harris

Vrinda Rathi

Kim Cotton

Katy Cross
Correct Answer: C
9. The Defence Ministry has recently extended the emergency acquisition powers to the three defense forces by how many months, to tackle China's threat?
6

8

10

12
Correct Answer: A
10. Honda Motor Company Limited recently appointed ________________ as the President, CEO & Managing Director of Honda Motorcycle & Scooter India.
K N Radhkrishnan

Noriya Kaihara

Kunal Behl

Tsutsumu Otani
Correct Answer : D